Sharing and Collaboration
Share lists with others so you can create and edit tasks together.
Stay in sync across your company, team, or people you choose from Google Contacts.
Watch Video
Google Calendar Integration with 2-Way Syncing
Set due dates on tasks in GQueues and they appear on your Google Calendar within seconds.
Modify tasks in Google Calendar and those changes sync back to GQueues.
Leverage up-to-date calendars for yourself or your company or organization.
Assignments
Delegate tasks to others and monitor their progress.
Unlimited Subtasks
Break down large tasks into manageable subtasks so you can start making progress.
Create as many levels of subtasks as you need.
Mobile Apps
Stay organized and in sync with your group with Android and iOS apps.
Watch Android VideoWatch iOS Video
Google Workspace Add-on
Turn emails into actionable tasks within Gmail and mark tasks complete from Google Calendar. Watch Video
Comments
Discuss task details with collaborators and keep work moving forward. Watch Video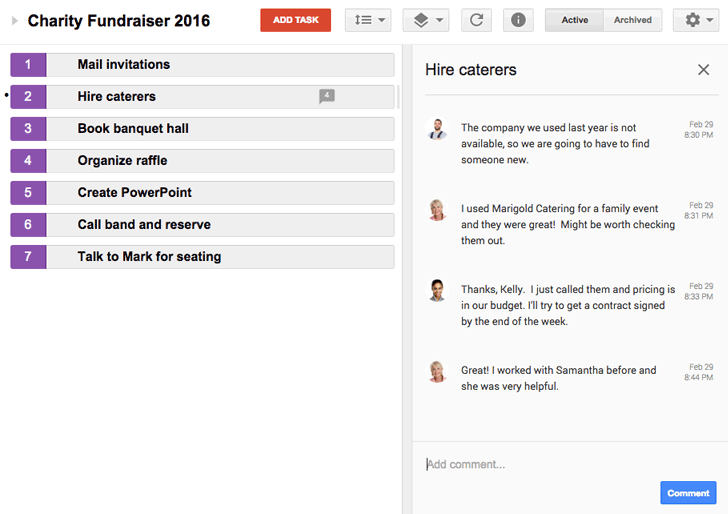 Reminders
Get reminders via email or pop-up so you never forget a task.
Repeating Tasks
Set tasks to repeat based on a specific pattern.
Tagging by Topic
Tag tasks and then easily see all tasks with a particular tag.
Setup a tagging system for your organization to stay in sync on projects.
Search
Find tasks easily no matter where they are.
Use Advanced Search and Saved Searches to filter and display just the tasks you want.
Smart Queues
Filter tasks based on a set of criteria for quick retrieval.
Activity Panel
View the history of all activity in a queue.
Easily track and review changes made by collaborators. Watch Video